You cannot select more than 25 topics
Topics must start with a letter or number, can include dashes ('-') and can be up to 35 characters long.
readme.md
Minetest mod metatools
Get everything possible* about a node just by clicking it with metatools:stick!
Differences in Poikilos' fork:
This is a hard fork oriented around getting information without typing any commands.
All known* metadata is shown on click! There is no need for various commands to traverse the tree, though the original chat command code is intact.
Click a node and get its inventory.
Click an entity and list the entire LuaEntitySOA tree!
The texture is redone so that doesn't any longer have an invasive and inappropriate CC-BY-NC-SA license from the upstream version of metatools.
* All metadata where how to obtain it is known by the maintainer of this repo (except where there is an open issue).
Authors
Code:
2015-2016 LeMagnesium/Mg/ElectronLibre and Paly2/Palige (mod inspired by mgl512's itemframe issue)
2017-2022 Poikilos (Poikilos' fork of Version 1.2.2)
Textures:
2022 Poikilos (redone "metatools_stick.png" replaces one with invasive and inappropriate CC-BY-NC-SA license [old texture was by Ataron])
Purpose
This mod's aim is to provide a way for admins to navigate through any (ok, not ignores) nodes on the map, and see values of its metadatas at any of their stratum.
Install
Copy the repo folder containing init.lua to your Minetest mods folder (The resulting folder should be mods/metatools/).
Enable the mod for the world.
You can remove the "projects" folder to lighten the "game" if necessary (Keeping the png is useful but only for documentation--Nothing in "projects" is used by the mod code).
Special thanks
mgl512 (Le_Docteur) for its locked itemframe which gave me the idea of a tool allowing to see/edit metadatas
Ataron who created the stick's texture
palige who agreed to test the mod for its first release, and contributed to the last version
Use
After following the "Install" steps above, open the world in Minetest.
Type /grantme all
Type /giveme metatools:stick
The chat commands from https://github.com/Lymkwi/minetest-mod-metatools are still present but usually not necessary:
Type /meta help to see instructions on chat commands.
Development
Minetest API Notes
Entity Metadata
The magic sauce to get the entire LuaEntitySOA of a pointed_thing was finally discovered by accident (when researching unrelated API feature(s)) after no one would/could answer my question:
local

 

pointedObjRef

 

=

 

pointed_thing.ref

;




-- . . . some other code is here, then ...




local

 

luaEntity

 

=

 

pointedObjRef

:

get_luaentity

();



Node metadata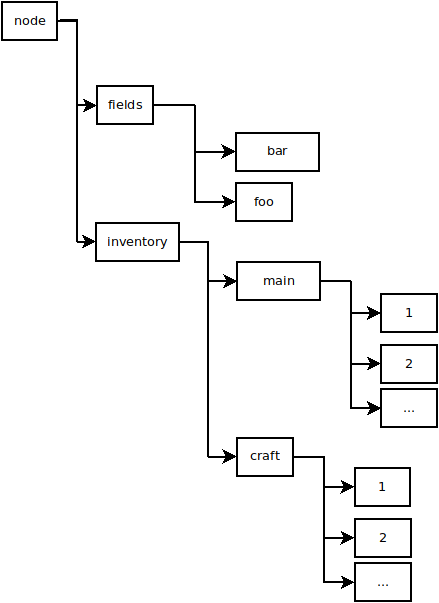 Node
|
+-fields
| |
| +-foo
| +-bar
| +-...
+-inventory
  |
  +-main
  | |
  | +-1
  | +-2
  | +-3
  | +-...
  +-craft
  | |
  | +-1
  | +-2
  | +-3
  | +-...
    +-...